Corporate Retreat Sample Agenda
"The people have learned not from books, But in the fields, in the wood, on the river bank. Their teachers have been the birds themselves, when they Sang to them, the sun when it left a glow of crimson behind it At setting, the very trees and wild herbs." – Anton Chekhov, "A day in the country."
Benefits of taking time to break from "business as usual" and leaving the office behind have been well documented. Retreat agendas need to have a purpose, be flexible, have a budget, to be well executed as with any other business agenda or agenda for life.
The retreat experience is crucial and needs to be nurtured in a "relaxed" natural eco environment with good energy. Heather has both a corporate and medical background and in a busy lifestyle stresses the importance of maintaining "balance" in activities of daily living. "I can't resist the beautiful vibe and the instant energy I get at Qii house. I often find myself there on impulse to break the daily routine and to refuel! It has such a great vibe and works like magic." The Qii experience is very therapeutic and uplifting. Its tranquil environment offers a great place to daydream, to visualize and to set clear goals for life or for simple meditation. Heather says that a critical factor in living the life of your dreams is to have "self belief" and to be able to "back yourself."
Involving key players in the planning and implementation process of their own retreat activities or agendas allows them to identify their individual needs and to fully optimise the benefits and outcomes of a retreat. Heather believes that each activity could be identified holistically within the group, and a leader appointed to be in charge of the facilitation process of each agenda activity. Ideally ideas could be generated within the group and tossed into a ballot. Each individual could hypothetically withdraw an agenda that they didn't create. In this way some research needs to be undertaken as how to best prepare for the retreat activity. For example if Spa cuisine is on the agenda, then a team leader will be responsible for organising groceries and what is needed to conduct that activity, who will partake and so on. Qii house has a planter box with herbs growing onsite for cooking use!
More than one person can involve in planning of an activity. Heather also stresses the importance of going "dark" during each activity that is, switching off the mobile network and disengaging from any form of digital phenomena. At the end of each day a journal could be made detailing reflections about the day. Heather suggests appointing a fine master; those caught using mobile devices other than for urgent incoming calls or emergencies will be fined and donations will go to a charity of choice. The same could apply to using a four-letter word! Just a small reminder and price to pay! To take you away from negative sentiment and to bring you back to focus!
Some important benefits and outcomes of the creation of an organic retreat agenda at Qii house include:
Movement away from more formal rigid agendas and routine
Embracing change and leaving the comfort zone
Building company culture and team bonding
Mindfulness and self reflection
A break from "long work hours" and relaxation
Restoring balance and grounding
Spark creative thinking
Goal setting with a sharper focus
Improving leadership skills from within, by example and leading others
Improving skill base and personal development
Effective communication on a personal level
Breaking down barriers
Presenting challenges on an individual basis
Problem solving
Brainstorming
Group dynamics and teamwork
Promoting a flexible approach
Clarity through meditation
Self awareness and positive thinking
Stress reduction and promotion of well being
Happiness and reconnecting with the universe
A temporary change of scenery for everyone to enjoy within the great energy of the Australian Native Bush Life.
The Qii house agenda
Friday Evening
8pm
Qii House arrival; orientation and introduction, unpack.
Supper (healthy raw treats and fruit to promote good digestion, camomile tea to promote rest) on the sunset deck and discussions of retreat objectives; what has brought you here and what you hope to achieve.
Discuss/ provide each person with a timetable/program for the next two days.
Delegate housekeeping tasks.
Write down personal goals and outcomes for the retreat and reflection on the deck through guided visualization before retiring to bed.
If the group is for 15 persons a team leader will be responsible for organising a "sleep out" for 7 persons on the deck and rotating the next night.
Saturday
7am – Rise and Shine; Write down personal goals for the day and reflect for five minutes
7.15-8am – The team leader to conduct a nature meditation session
8-9am – Breakfast Designated Team leader to organise a healthy balanced meal (spa cuisine)
9-10am – Activity Fitness circuit orchestrated by a team leader
10-11am – Bird watching and reconnecting with nature in Qii gardens and some creative writing with a team leader
11-11.45am – Morning tea (organic treats) and self reflections
11.45am-4.30pm – "Walking nature meditation" and a picnic at Erskine Falls (5km easy walk) (photography, nature meditation; team bonding; creature spotting, aromatherapy) A complimentary Qii retreats back pack with goodies has been supplied to enable this process. Or alternatively visit a "Gentle Annie's Berry Farm" in Pennyroyal, for some Berry picking. Find a spot for a picnic at Pennyroyal Valley Waterfalls. Use the berry's in a delicious dinner dessert menu. Walking nature meditation. *The group could be split for these activities.
4.30-5.30pm – Free time
5.30-6pm – Activity Presentation – "9 Habits to Manifest Your Dreams Using The Law of Attraction": appointed team leader to address "9 Habits to Manifest your Dreams using The Law of Attraction."
6-6.30pm – Cocktails at Qii house bar and some karoke or singing(designated team planner)
6.30-7.30pm – Dinner Team Leader to organise Spa cuisine
7.30pm – Bedtime,board games, group activity such as Charades, I Spy or Chinese whispers for a bit of fun. Written goals and reflections, stargazing through the Qii House telescope.
Sunday
6.30am – Rise and Shine
6.45-7.30am – Nature Meditation
7.30-8.30am – Yoga and stretches on the deck.
8.30-9.30am – Breakfast
9.30-10am – One-on-one coaching sessions with a holistic Lifestyle Coach (designated times for each individual)
10-11.00am – Wrap up, Reflections, Feed-back
11.00am-12pm – Refreshments
12-3pm – Activity BBQ
3pm – Depart.
Heather adds that a number of agenda choices and suggestions could be made, depending on individual group preferences.
Price is per person basis and available on request.
Qii house is available for hire giving full use of all amenities.
Additional costs apply per night for extended stays.
Heather is happy to work with retreat planners to effect process.
Qii house is a place where the best in all worlds meet.
If you can dream it you can create it.
Feel the Vibe and Come Alive!
Qii house is an out of box experience. Savor the moment in fresh mountain air, in the ancient otways eco-system, where focus is shifted to the art of living in harmony with nature's rhythm.
Get in touch or book your stay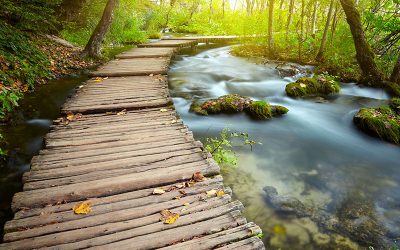 Albert Einstein once stated, 'Look deep into nature, and then you will understand everything better'. I truly believe this to be true. My fondest childhood memories were ones of me playing in and with the natural world. I was blessed to have a forest literally at my...
read more